things that REALLY creep me OUT!
need i say more?
being whipped by metal-
unmanned machinery creeping up behind me...
William Shatner being sexual-
an elephant that can jump higher than me on a trampoline-
kittens that know foreign languages-
pornographic cartoons-
reruns of "married with children"
Bill Cosby with an erection-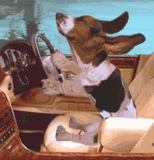 dogs that don't use their seat belts-
gag me with a spoon-
charging hippo with more credit cards than me-
dYsFunCtiOnAl cows-
when monkeys are more technologically advanced than humans..
and then leave evidence that they've been up to no good.
stores with sexual innuendos for names-
lost penguins -
unstable alligators-
cats impersonating E.T.-
..all things tom cruise.
clOwns. 'nuff said.
what creeps you out?