it is very windy tonight, in fact we had wind warnings for those who go boating. the 'ole Missouri river actually had white caps this evening! the current was going west yet the whitecaps were going east.
i do enjoy a windy evening and night. i have the back door open and a nice breeze is blowin in. the moon is full, and in the light of it, i can see the many trees we have around our property, swaying to a certain tempo, as if it hears music i cannot. i love the way the trees sound as their leaves are being rustled.
i just took Bella [our dog] out to go potty in the back yard, and as i stood out there for awhile, i felt so little compared to the trees, the full moon, and the wind you can not see. buds and leaves and cottonwood blowing all around... i find it humbling to stand before nature like that..

i found this picture on the internet and i fell in love with it.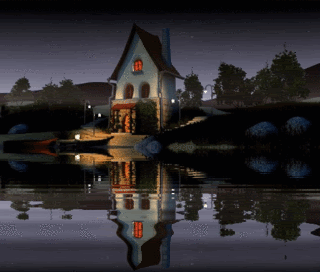 i find it comforting to look at it and imagine who lives there and what their lives are like. then i imagine myself and Diane living there and create all kinds of things we would do if we lived on the lake like that. just being able to sit on a porch in late afternoon/early evening and watch storms blow in would be a privilege, in my [and Diane's] opinion.
sipping on some hot tea or coffee, snuggled up together under a soft comforter on our glider, and looking for shapes that represent something in the clouds as they make their way towards us... to simply exist to sit and watch the weather like that seems too much to ask for. but it could happen, some day..